Meet Dana Habayeb – founder, educator, influencer, marketing expert – who experienced a lack of support in her community and decided to start her own company called Faith Consulting to address the growing need in the Muslim community for philosophical discourse, counselling, financial guidance etc. Read the full article below to find out more about her journey and struggles, and some valuable advice on juggling a full-time job with your own business.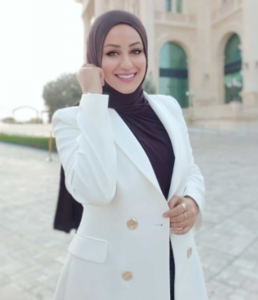 Tell us a little bit about yourself!
I studied Psychology and Health Science in my undergrad and did my Master's in Public Health Policy and Program Development. I was born in Canada and throughout my life I have been very entrepreneurial – whether it was sewing pillows and selling them at school, or freelance fashion designing at university.
When I graduated from my Masters, I came to Qatar and joined an incubator – I wanted to learn crucial business skills. I worked as a consultant, taught at universities, and conducted workshops. I was still on the entrepreneurial side, but it was me providing my services to other businesses rather than having my own business. When I saw my clients thrive, I asked myself, "Why am I not doing this for myself? Why am I not starting my own business?" Starting your own business demands a lot of financial and time commitment, so I didn't really give it a serious thought at that time.
So, when and how did you finally decide to start your own business and create Faith Consulting?
During lockdown, I had a lot of time to think about my spirituality and goals in life. There were things that I wasn't happy with – things in life that I wanted to improve upon. And at that time, the world shifted to a completely online environment. People got more open to using technology to connect. This is where faith consulting started!
It started from my own gaps in life where I wanted help but couldn't find it in my community, combined with people's increased acceptance of technology in their daily lives. Faith consulting is a combination of connecting providers and people that can help you with your spirituality, finances, mental health etc. through video consultation.
What was the most challenging part of starting Faith Consulting?
It's hard to get clients. It's hard to get providers.
Faith Consulting was such a small company that we didn't have resources to pay high salaries to providers, nor did we have a reputation because we were new. So, getting both clients and providers was hard.
I realized patience and persistence was key. I realised you have to approach people numerous times for them to respond. Next, you need to approach them numerous times to get them to follow through on their commitment. And then you must approach them numerous times for them to just fully buy into your business.
Also, you need to figure out why people aren't buying in to your business. The biggest issue for us was proving our legitimacy – some people even thought we were a scam! To prove we were legit, I started linking my Instagram account, so people knew who the owner was. We also hired influencers to build trust. I realized that you need to understand why people aren't interested in your business and then work towards fixing it.
Faith consulting has a very active social media presence. What attracted you to these platforms as a source for marketing?
When I first came to Qatar, I started a fashion line, and everyone told me that all Qatari's are on Instagram. Someone even told me if you're not on Instagram, you're almost irrelevant. That's when I started looking at social media seriously.
I struggled with it in the beginning, but it truly made a huge difference. My account grew quite quickly – I was getting more and more clients, and people even reached out with job opportunities. Social media is a great marketing tool, and a lot of small companies don't realize that you need to invest in marketing – It builds trust, and it informs people about your product/service.
Very similar to you, a lot of our readers are full time employees who are trying to launch or run a start-up. What advice would you give our readers who are struggling to manage both?
Wow that's a good question! I run Faith consulting but on the other hand I still have my full-time job. I personally think that you shouldn't jump to quit your job immediately after you start a business – and I don't think you need to. As long as you're willing to hire the necessary help to build your business, you're set! You probably don't have all the skills to make your business successful. Even if you have the skills to do everything, you couldn't possibly have the time or the focus to do everything with perfection. I highly recommend everyone to hire help. You're going to be living on a budget and giving up on some luxury, but seeking that help from others is necessary.
What's next for faith consulting?
I have big plans for faith consulting. Right now, it's a platform that connects consultants with people across the world. But what I really want is for us to grow into a course platform for Islamic knowledge. More than that, I want it to grow into a social media platform for Muslims. I want us to have something that's ours where we don't feel like we're discriminated against or that our content is being censored. I'm really hoping that behind faith consulting are people who really care about the wellbeing of users. I hope we can create something that pushes humanity forward rather than backwards.
A special thank you to Spandana Unnava for interviewing Dana Habayeb!
Interested in getting to know more about Dana Habayeb? You can connect with her here.
Interested in getting to know more about Faith Consulting or booking a consultation with their providers? You can find more information here.